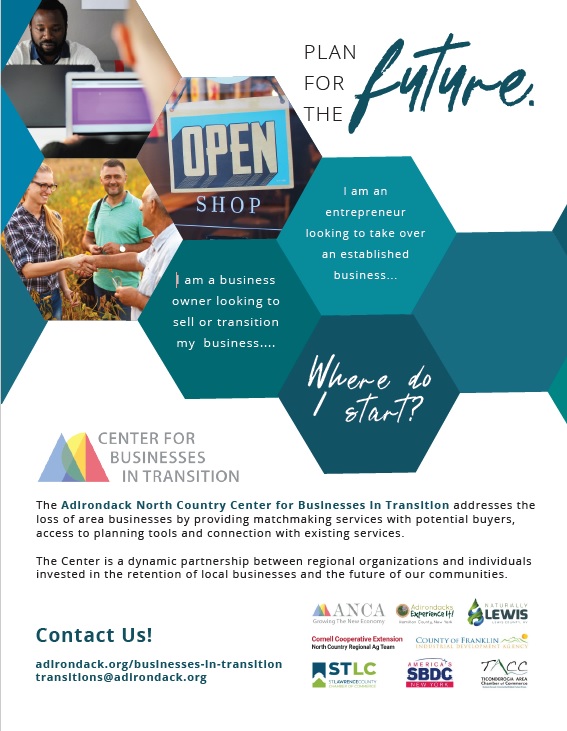 Looking to sell your business? Looking to buy a business?
Visit https://www.adirondack.org/businesses-in-transition for more information!
Sunrise Diner- Speculator 
Well established Turn key Diner with regulars and seasonal out-of-towners. EVERYTHING you need to start up your own business. This diner seats 26 customers and comes FULLY equipped with 2 fryers, flat griddle, char broiler, industrial refrigerator, as well as, 2 refrigerators and a walk-in freezer and a $15k generator. This business is open every day all year round. Come enjoy the sites and sounds of downtown Speculator
Asking $269,900
Coldwell Banker Prime
www.coldwellbankerprime.com/
https://www.coldwellbankerprime.com/p/2884-State-Rt-30-Speculator-NY-12164/dmgid_141106649
 
Kickerville Station- Long Lake 
Here is a great opportunity to own a business in Long Lake. The potential for this business is endless. Open again as a mini market with gas, do food sales, retail, make office space, put in a hardware store, etc. Come with your ideas and make it happen with your own business plan in the center of the Adirondacks. Asking $249,000

Long Lake Real Estate
longlakerealestate.com/
https://longlakerealestate.com/idx/mls-170025-1383_tupper_rd_rt_30_long_lake_ny_12847
Lemon Tree- Speculator 
Great commercial opportunity in the heart of the Adirondack Mountains! Large, recently refurbished 3 bedroom apartment sits atop "The Lemon Tree." The apartment has a large enclosed front porch with lake views, new appliances a fireplace and hardwood throughout. Showroom and office space as well as 3 garage service bays provides suitable accommodation for a variety of businesses. There is an RV water/sewer hook up behind the building. Behind the main building, the property stretches for about 6 acres and has almost 34 feet shared right of way with a dock on the shore of pristine Lake Pleasant. Live in the apartment or rent it and build on the back 6 acres and create your own private dwelling accessed by a quiet side road. Asking $375,000

Howard Hanna
/www.howardhanna.com
https://www.howardhanna.com/Property/Detail/2849-STATE-RT-30-Speculator-NY-12164/AlbanyNY/202021756
Puterko's Pizza- Indian Lake 
Live Work and Play in the Adirondacks! Own and operate this well established restaurant! Family owned and operated for 9 years! Year round indoor seating of 34 and a huge takeout business this is well equipped and turnkey for you to take over and expand to your liking. Upstairs a well appointed 2 bedroom apartment for you to occupy or rent out long term or short term Air BNB. Asking $295,000
Howard Hanna
www.howardhanna.com
https://www.howardhanna.com/Property/Detail/6240-NYS-RTE-30-Indian-Lake-NY-12842/AlbanyNY/202020440
Lake Pleasant Lodge Office Building/ Home - Speculator
This year round home is located in the middle of Speculator in the heart of the Adirondack Mountains. Sit in front of your beautiful stone fireplace or gaze at the lake from big picture windows. Attached garage has 2 Tesla charging stations. Situated on 80 feet of shoreline on pristine Lake Pleasant, this property offers a unique opportunity to have your own lakefront residence by itself for $369,000 or combined with the adjacent 11 unit motel income property for $779,000.00 (with an additional 180 feet on the lake.) While the house currently contains the office for the motel, there is a separate office space in the motel making it easy to separate home from work. Home also has a large dining room, formerly used as a restaurant. Asking $369,000.
Howard Hanna
www.howardhanna.com
https://www.howardhanna.com/Property/Detail/103-ELLIOTT-LA-Speculator-NY-12164/AlbanyNY/202014919
Wood Working Shop- Long Lake 
This is an incredible opportunity to start or relocate a business in the central Adirondacks. Currently used as a woodworking shop it offers 3 phase power, 5 overhead doors with large bays, high efficiency wood fired boiler with additional propane boiler for back up or primary heating, multiple offices and storage spaces along with a full bath. The possibilities are endless with over 6700 sq ft of fully insulated office & work space. This 47 acre parcel also offers a sand pit and mature forest bordered on two sides by State Forest with rolling hills, magnificent Mt. views and great sunsets that could be developed as building lots, a private residence or used as a hunting camp. Included in the sale are two fork lifts and the existing woodworking equipment may be available for purchase separately. Also included in the sale is an industrial air compressor with steel piping to all work areas. Asking $447,000

Long Lake Real Estate
www.longlakerealestate.com
https://longlakerealestate.com/idx/mls-166941-646_deerland_rd_long_lake_ny_12847
Marty's Chili Nights- Indian Lake- Sale Pending
The Building, Large Lot and all of the Equipment is included in the sale. Over 4200 SF, first floor restaurant and bar, seating for 48, two baths, nice kitchen set up, bar set up, refrigerators, freezers, Upstairs could be used for housing, office, or storage., the lot offers ample space for parking, town water and sewer, some older seasonal cottages ready for rehab....endless possibilities to make dreams come true. Asking $175,000
Howard Hanna
www.howardhanna.com
/www.howardhanna.com/Property/Detail/6303-NYS-RTE-30-Indian-Lake-NY-12842/AlbanyNY/202011190
Hillcrest Apartments and Cabins 
This is a great income property. It is 15.2 acres, and is bordered by a stream in the back. The main house features 2 apartments. The upper has 2 bedrooms and the lower has three bedrooms. On the first floor of the yellow building is a laundry area and a 1 bedroom apartment. On the second floor there are two 2 bedroom apartments. There are two 2 bedroom cabins, but one is unfinished. There is a 4 car garage, and ample parking on the grounds. There are two wells and three septic systems. Two of the septic systems are less than 10 years old. Tenants pay for electric and heat. This is a great buy with lots of income potential. Asking $279,000
Alicia C Miller
www.acmiller-re.com
www.acmiller-re.com/ShowProperty.php?ID=596

Building Next to Indian Lake Theater- Indian Lake

This 2,232sq ft building was a former barbershop.  Property is in a very desirable commercial location. It has 2.45 acres with additional adjacent parcels. Please call 518-548-5779 for more information. Asking $125,000

ZIEZER'S - Speculator

Restaurant has large kitchen, several dining rooms including an enclosed front porch also, a wine room, and all over old-time charm. Needs some TLC, very good investment in a great spot. Close to school, beach, and plenty of boating. Once a year-round business with skiing mountain, snowmobiling trails, and beach. Asking $195,000
Gallo Realty
www.gallorealty.com
https://www.gallorealty.com/property/?agent=sar.4802&street=2965&address=STATE%20ROUTE%2030&city=Lake%20Pleasant&mlsID=88532313
The Ole Barn- Inlet

Priced almost at assessed value for the property alone, the Ole Barn is an event center and restaurant/bar with tons of potential. There have been weddings, large parties, music concerts, large corporate meetings and fundraising activities for many years. A three sided bar which seats 30+ plus booth seating for informal dining adjoins a large banquet area seating 350. It offers a stage, retractable dance floor, and another dining area overlooking a courtyard perfect for a wedding venue. The wood fireplace adds ambiance. There is a massive parking area for sleds and cars plus boat trailers. The restaurant and 2 residences are serviced by a generator in case of power outages. Asking $599,000

Timm Associates- Sotheby's
www.timmassociates.com
https://listings.adirondackcommercialproperties.com/idx/details/listing/a375/164953/78-Limekiln-Road-Inlet-NY-13360
7th Lake House- Inlet

This well established restaurant has a reputation for fine cuisine at reasonable prices. Sit by a warm fire in the winter time or on the enclosed porch in the summer. The bar is one of the friendliest in the Central Adirondacks and this is a restaurant frequented by both locals and visitors. Good service and an excellent selection of food, prime rib, seafood and fresh salads and they are especially known for their flour-less chocolate gateau and other desserts. A comfortable three bedroom apartment upstairs can be used for owners or for employees. Located right on Route 28 just north of Inlet bringing clientele from the north and south. In the winter, this is right on the snowmobile trail. Asking $485,000

Timm Associates- Sotheby's
www.timmassociates.com
https://listings.adirondackcommercialproperties.com/idx/details/listing/a375/146847/479-State-Route-28-Inlet-NY-13360
The Lake Store- Indian Lake

Looking for an opportunity to live & work in the Adirondack Park? The former Lake Store', established in 1946, on the shores of beautiful Indian Lake, has the perfect venue to become a cafe, luncheonette, retail store, fishing & hunting equipment, Adk. accessories, furnishings & antiques & could be a destination for shoppers coming from far & wide. 3600 sq. ft. of retail space including an ice cream fountain, working antique coolers, original wood floors and large, bright windows. Includes spacious, owner's quarters with separate, outside entrance & patio. Featuring lake rights to Indian Lake for docking and swimming, which could be used for customers coming off the lake. Well priced! Asking $375,000

Timm Associates- Sotheby's
www.timmassociates.com
https://listings.adirondackcommercialproperties.com/idx/details/listing/a375/165333/5450-NYS-RT-30-Indian-Lake-NY-12842
Squaw Brook Motel- Indian Lake 

Live, Work and Play in the Adirondacks! Check out this opportunity in Indian Lake! Located just outside of town, this beautiful 4.7 acres property offers a 2 Bedroom one bath owners home with a large greatroom with wood floors and a floor to ceiling stone fireplace, business office space, three season porch, 20 x 40 swimming pool, screen rooms, firepit, large lawn areas and a clean turnkey 8 room seasonal motel business with paved parking. Let the summer income pay your property expenses. Bordering state land, there is room to build a new home behind the business for more privacy! Perfect location to call home! Asking $249,000

Howard Hanna
/www.howardhanna.com
https://www.howardhanna.com/Property/Detail/5293-STATE-ROUTE-30-Indian-Lake-NY-12842/AlbanyNY/201923986
Garage/Rental Property- Indian Lake

Attention Investors and Business Owners! Here is a great opportunity for a Mixed Use property in the Adirondacks! This 3200+ square foot property offers a large commercial space currently rented as an automotive garage, and two large apartments, a one bedroom and a two bedroom, all spaces currently rented with long term tenants. The building has had recent upgrades, windows, doors, siding, electric service and LED lighting, etc., and is on town water and sewer. All of this on a 1.4 acre level lot that offers room for expansion, ie, storage facility, and or possible subdivision. Motivated seller will consider owner financing to qualified buyers.

Howard Hanna
www.howardhanna.com
https://www.howardhanna.com/Property/Detail/5293-STATE-ROUTE-30-Indian-Lake-NY-12842/AlbanyNY/201923986
 
Clark's Marina - Inlet

Clark's Marina was established in 1960. It is a year round full service Lakefront Marina Business, including boat sales, service, rental, & storage located on Fourth Lake in Eagle Bay between the Towns of Old Forge and Inlet in the Adirondacks. Includes 3 separate parcels totaling 13+ acres, 209 feet of direct lakefront, dock slips for 50+ boats, 27,000 square feet of storage warehouse space, 2 cottages, boathouse, office bldg, 3 Bay Service/Parts bldg with gas pump, Rental Boat Fleet, Launch Ramp and room to grow!
Asking $2,499,000

Howard Hanna - Capital, Inc.
www.howardhanna.com
https://www.howardhanna.com/Property/Detail/8-State-Route-28-Inlet-NY-13360/albanyNY/190207

Binders Cabins - Indian Lake 

This well established turn key year round business and well maintained property consists of 7 one and two bedroom vacation cabin units with kitchen and baths, office, owner/manager apartment, views and public access on Adirondack Lake across the road, all on beautiful wooded and landscaped grounds. Also included is a separate commercial office building on an adjacent separate lot, currently leased long term to NYS.
Asking $695,000

Howard Hanna Capital, Inc.
www.howardhanna.com
https://www.howardhanna.com/Property/Detail/6204-STATE-ROUTE-28-Indian-Lake-NY-12842/AlbanyNY/202020439
Indian Lake Motel - Indian Lake 

This well maintained Indian Lake Motel & Apartment complex is now available for sale! Project includes 4 buildings, 15 total units, 11 Apartments ranging from Studio to two bedrooms, 4 Motel Units, Large landscaped 2+ Acre town lot, Public water and sewer, approved and subsidized by HUD, long term tenants with annual leases, large parking, 2 garages for storage, Outdoor Wood Furnace.
Asking $295,000

Howard Hanna Capital, Inc.
www.howardhanna.com
https://www.howardhanna.com/Property/Detail/6179-6183-STATE-ROUTE-30-Indian-Lake-NY-12842/AlbanyNY/181829
Indian Lake Marina - Indian Lake 

Turn key established Lakefront Marina Business operation on Beautiful Indian Lake in the central Adirondacks includes Furnished 4 Bedroom year round house, Furnished 3 Bedroom Seasonal Cottage, Large Rental Boat Fleet, Gas Pumps and Above Ground Tanks, 33 Space Dock, Concrete Boat Launch Ramp, Mechanics Garage, Marina Store, Parking Lot, Grumman Boats Dealership and much more! Additional 2,9 Acre Lot with Large Storage Buildings also available. Owner Financing to Qualified Buyers.
Reduced-$875,000

Howard Hanna Capital, Inc.
www,howardhanna.com
https://www.howardhanna.com/Property/Detail/206-LAKE-SHORE-DR-Indian-Lake-NY-12842/AlbanyNY/181677
Commercial Space - Indian Lake 

Commercial space opportunity in Indian Lake. High traffic road, perfect for Retail, Commercial, Manufacturing, or Storage Includes 3 Buildings, Retail/Showroom, Workshop/Storage, and a Newer 4000 SF Metal building, fully insulated with 16 foot ceiling, clear span, 6 inch concrete floor, all on 3 acres with 395 feet of road frontage, next to snowmobile trails, and nearby lakes.
Asking $220,000

Howard Hanna Capital, Inc. 
www.howardhanna.com
https://www.howardhanna.com/Property/Detail/6627-STATE-ROUTE-30-Indian-Lake-NY-12842/AlbanyNY/172120
Chambers Common - Inlet 

Chambers Common is a multi-tenant building with stores on the first floor, a two bedroom apartment on the second and there is a small, year round cottage on the property for rent or owner occupant. Located in the heart of Inlet, there are two very large spaces on the second floor that could easily be converted into two more apartments with town approval to maximize income. The two businesses that are currently for sale with the building are: "French Louie's" a clothing, equipment and fishing store and "The Adirondack Reader" and cafe. Both have been established since 2002. It has town sewer and it has it's own parking area. Inventory is additional.
Asking $549,000

Timm Associates Sotheby's International Realty
www.timmassociates.com
https://www.timmassociates.com/eng/sales/detail/570-l-83589-162593/156-state-route-28-first-through-fourth-lake-inlet-ny-13360
 
Oxbow Lake Motel - Lake Pleasant  

This waterfront property features 10 rooms all with lake views, 6 of which are rooms and 4 efficiencies. This is also the location of the only  paid boat launch for the lake. It is a Four Season business. Property has had several updates in the short term, from new windows, furnace and water system. New carpets last fall.A stand alone generator is on the property in the event of power outage.
Asking $549,000

For Sale by Owner
 

Former Hotel - Wells  

This large, former hotel is located right in the middle of town, close to the public beach and not far from local stores and restaurants. They first floor contains a large commercial kitchen, a dining area, a library and a lounge. The second floor has 12 bedrooms and 5 full baths. The third floor has 4 large bedroom with en suite bathrooms. Recently renovated.
Reduced $275,000

Howard Hanna - Northville
www.howardhanna.com
https://www.howardhanna.com/Property/Detail/1454-STATE-RT-30-Wells-NY-12190/AlbanyNY/201813883

Cedarhurst Motor Lodge - Speculator
 
This Motel has a great location right in the heart of Speculator.The Motel is located with-in a couple hundred feet from the public beach on Lake Pleasant and the local diners. There is also easy access off the back property line right onto the snowmobile trails and Oak Mt. ski area is located just up the rd. The main living area has 6 bedrooms, 3 full baths, open living room,dining, and kitchen. There is a crawl under the home with an oil furnaces and there is electric heat upstairs.Plenty of room for your family to enjoy and have their own space.
There is a separate office area for check-ins and a laundry/ storage room for sheets and cleaning supplies for the motel rooms. There are 10 motel rooms (8 with 2 full beds) (2 with Queen beds). The rooms have a refrigerator, microwave,t.v, sink and mirror in the room and a private shower and toilet area.There has been recent updating to the rooms and they are in very good condition. There is village sewer,water, and there is electric heat.The parking lot has plenty of room for parking. This is a great way to move to the Adirondacks and have your own business.
Asking $450,000
Alicia C Miller Real Estate, Inc.
www.acmiller-re.com
http://www.acmiller-re.com/ShowProperty.php?ID=429
 
Pleasant Point Country Inn - Speculator  

Pleasant Point Country Inn located on Routes 30 and 8 in the Village of Speculator. The location is great with in walking distance to the village beach, stores, restaurants, and more. The snowmobile trails are right there to access and Oak Mountain Ski area is less than 5 minutes away. Recently new updates like 6 remodeled bedrooms and 6-1/2 new baths, with a sitting room .Downstairs is a gift shop, dining area (with breakfast bar), sitting-room (with wood stove). The lot size is 219 x 174
Asking $275,000

Alicia C Miller Real Estate
www.acmiller-re.com
https://www.acmiller-re.com/ShowProperty.php?ID=89
Old Country Pizza - Speculator 

This turn key operation is approved to seat 62 inside and 30 outside. It is an ideal location for your business, It is in the center of the Village of Speculator, right at the junction of the two main roads in the county; NY 30 + NY 8. It features a cozy dining room, more seating in the main room outdoor seating,and 2(1/2) baths.
Asking $225,000

Alicia C Miller Real Estate
www.acmiller-re.com
https://www.acmiller-re.com/ShowProperty.php?ID=402
 
The Cellar Restaurant and Pub - Long Lake

This busy turn-key restaurant has been in operation for over 20 years, and what started out as a bar and pizza place has evolved into a full-dining favorite among locals and tourists. This once seasonal restaurant has grown into a year-round business with plenty of growth potential. A new walk in cooler was added in 2013. 2014 upgrades include; a new POS system, Big Screen TV, and a new grill, all add to the appearance and functionality. Onsite leased jukebox, ATM and pool table add ambiance and convenience.
Asking $315,000

Gillis Realty
www.gillisrealty.com
https://www.gillisrealty.com/listing/146835/3-kickerville-lane-long-lake-ny/
 
Row Building For Sale - Contains 3 Businesses -Long Lake


Unique commercial property, located in Long Lake near Lake Eaton State Campground. Currently being run as a Liquor store, Laundromat, and Unique Country Store. (Current tenants would consider leasing from a new owner). (Liquor store would consider selling inventory to a new owner). It has the potential to also be run as a gas station as it was in the past. Retail space is approximately 2590 square ft. This commercial site has unlimited potential!!! Easy parking/access and a nice location. Also included is an upstairs apartment with rental income potential, or as an owner residence.
Asking $225,000 

Long Lake Real Estate
www.longlakerealestate.com
https://longlakerealestate.com/idx/mls-141832-1601_tupper_lake_rd_long_lake_ny_12847