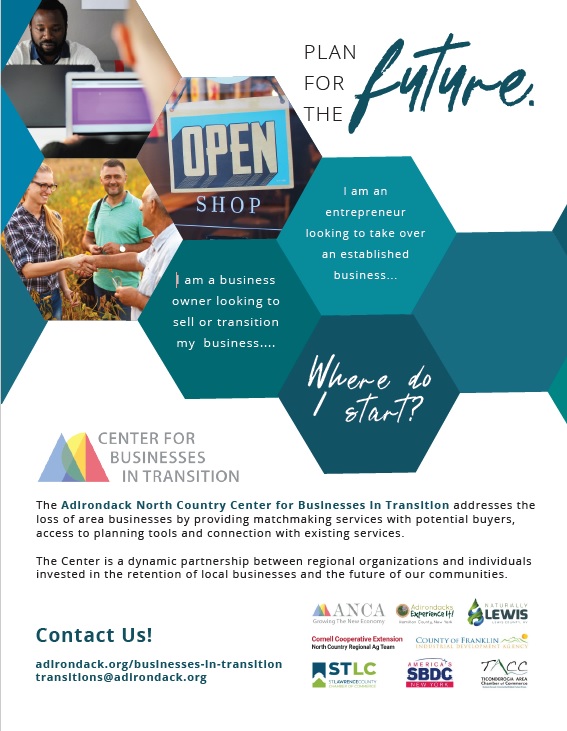 Looking to sell your business? Looking to buy a business?
Visit www.OwnANorthCountryBusiness.com for more information!
 

Kickerville Station- Long Lake 
Here is a great opportunity to own a business in Long Lake. The potential for this business is endless. Open again as a mini market with gas, do food sales, retail, make office space, put in a hardware store, etc. Come with your ideas and make it happen with your own business plan in the center of the Adirondacks.
https://search.timmassociates.com
https://search.timmassociates.com/idx/details/listing/a375/170025/1383-Tupper-Rd-Rt-30-Long-Lake-NY-12847
The Cellar- Long Lake 
Originally built in 1969 as a basement for a house. The Cellar evolved into a bar in the mid 80s and since then has been in operation as a restaurant and pub at different periods providing breakfast, lunch and dinner as well as special events. The Cellar has been operating seasonally for dinner service the last few years. The potential for growth for full service year round exists. During COVID the restaurant was able to stay open by adding a delivery service and a take out window and ran without staff. After realizing the four owners could successfully run the business without staff the same model was implemented this year and avoided the issue of current staffing shortage. The Cellar has become a Long Lake icon with a large local and 2nd home owner following. The very active social media sites attract visitors to the restaurant in this busy tourist town. An alternative to running a restaurant is to change the well built structure into a home on a very attractive lot. Asking $307,500
www.gillisrealty.com
https://www.gillisrealty.com/listing/173782/7-kickerville-rd-long-lake-ny-12847/
Blue Mountain Design- Blue Mountain Lake 
This property, a stone's throw from Blue Mountain Lake and the Adirondack Experience Museum, beckons you to stop and explore. The iconic curved entryway leads you into the area's second school house, built in 1895. As you step inside and back in time, you notice the original slate chalkboards, bead-board walls and metal stamped ceiling. The aroma of freshly ground coffee wafts from the newly installed cafe alongside the well established gift shop, which is filled with antiques and locally produced crafts. Uphill, you find a fairly new, but already profitable, boutique liquor store in place of the historic blacksmith's shop. Cozy, recently renovated apartments above both buildings provide housing for owners and staff, or could be used as short-term rentals. Included with this property is the adjacent parcel, with building rights. Many recent upgrades, being sold turnkey, with most inventory. Asking $750,000
https://search.timmassociates.com
https://search.timmassociates.com/idx/details/listing/a375/173527/8940-State-Route-28N-Blue-Mountain-Lake-NY-12812
Chambers Commons- Inlet 
A combination of residential rental and retail, book store plus coffee shop, this multi use property has been renovated and is ready for a new owner. Part of the gift shop was converted into a full fledged coffee bar with new interiors and equipment, seating and more. All new plumbing, electrical, new windows, air-conditioning and carpet was added to this section of the building. Adirondack Reader and Adirondack Coffee Shop are being sold with the property and the price is inclusive of everything but inventory. The building is on Town sewer and has its own well. Run from June 1 to October, Columbus Weekend, it is open 7 days a week. After Labor Day it is open 5 days a week, for the long weekends. Come in and get a coffee, pick out a book of your liking and sit and read. Just like a small town Barnes and Noble! The upstairs, year round apartment has two bedrooms, full bath, eat in kitchen and living room. The cottage offers year round living with a bedroom, bath and kitchen, living room. Asking $549,000

https://search.timmassociates.com
https://search.timmassociates.com/idx/details/listing/a375/174209/156-State-Route-28-Inlet-NY-13360
Indian Lake Restaurant- Indian Lake 
Successful Restaurant and tavern with additional liquor store in prime location on main route through the Adirondacks. Centered in the village of Indian Lake, This prime location for skiers, hunters, hikers, snowmobilers and local patrons has been a staple for the area for dozens of years. Historic bar moved here in the late 1920's with stipulations that it could not be put in service within 250 miles of it's original location of Princeton known as the "Old Nassau Bar". with a seating capacity of 149, it is not uncommon for the production of over 150 dinners per night. The seasons provide no significant downtime. Directly on the Snowmobile trail and nearby popular hiking areas, this location will not disappoint. New Point of Sale system and all equipment and nearly all furnishing included.Asking $479,900

https://demarshrealestate.com/
https://demarshrealestate.idxbroker.com/idx/details/listing/a062/202119010/6296-STATE-ROUTE-30-Indian-Lake-NY-12842
Common Grounds Cafe- Speculator 
Common Grounds Cafe has been a staple in the Speculator area community for almost 22 years! Situated just off the 4 corners and in the same parking lot as the Speculator Dept Store, this little cafe/gift shop is right in the center of the action! Proximity to Camp of the Woods, Oak Mountain Ski Center and hundreds of miles of groomed snowmobile trails provides a good customer base year round. Being sold turnkey, this business provides a great opportunity to make a living in a quaint Adirondack town. Currently operated only in the summer months, it was a year round business for about 15 years. 16X10 storage shed included. Financials available with signed NDA. Owner is willing to help facilitate a smooth transition. Agent is owner. Asking $279,000

www.howardhanna.com
https://105stanyonparkdr.howardhanna.com/
Lakeside Convenience Store- Wells

Located at 1537 Main Street, Wells NY. This home and convenient store has so many possibilities to offer someone trying to relocate or have the best of everything all in one location. The main floor has a 1/2 bath, big living room, open kitchen, office, and a deck over looking the lake w/29+ foot ROW to the water. Upstairs has 5+ bedrooms 3 baths, a family room and a master suite. The main floor has a door leading out to the, grocery, deli, pizza, ice cream window, fishing gear, knick-knacks, and beer coolers with the gas pumps out in front. This convenient store has been a great business for the current owners that have lived and worked here for many years. The store is not being sold with any merchandise. 
Asking $250,000

https://www.acmiller-re.com/
https://www.acmiller-re.com/ShowProperty.php?ID=656
Melody Lodge- Lake Pleasant

Unique opportunity to own a historic lodge and restaurant in the beautiful Adirondacks. Melody Lodge was originally built as a singing school for girls in 1912. The school was then converted into a lodge in 1976 and has been operated as a successful and popular, year-round, 7 room lodge with a full restaurant and tavern. The lodge privately located on 14 acres, proudly sits on a hill providing for panoramic water and mountain views. In addition to the 5 dining areas there is ample space for additional outside dining. Two large fireplaces offer a warm ambience while dining and enjoying the comfortable, inviting gathering room. In keeping with the original theme each room has been named after and displays a signature musical instrument. Many upgrades have been added to this turnkey property. The large, well-equipped kitchen is designed for both efficiency and convenience. Two large, private parking areas allow for the ease of close parking.
Asking $549,000

https://www.selectsothebysrealty.com
https://www.selectsothebysrealty.com/eng/sales/detail/327-l-547-5yhq4s/111-old-indian-lake-road-lake-pleasant-ny-12108
Turn Key Business- Long Lake

This is a wonderful opportunity to purchase a turn key business in the center of the Adirondacks. This has been an established business in the area for close to 40 years! The building would come with many tools, two hydraulic lifts, and other selected tools. The property has a large flat area just off the road and it rolls gently up hill in the back of the 2+ acres. There is plenty of room for parking, or expansion if someone wanted to enlarge the existing building, or use it for a different venture. There are a lot of opportunities with this investment! There is room in the back of the property if you wanted to build your own home, or put in a modular dwelling. It would give you privacy and easy access to the business. Someone could use it as an auto repair shop, a retail store, a storage building, or most any other venue you can think of. Please call to discuss the options and ideas you might have for this exclusive business opportunity in Long Lake.
Asking $325,000

www.timmassociates.com
https://search.timmassociates.com/idx/details/listing/a375/172171/8-State-Route-28-Inlet-NY-13360
Clark's Marina- Inlet

Clarks' Marina is the largest marina on the Fulton Chain of Lakes. They offer sales, service, boat slips and storage, gas, and rentals. There two lots associated with this sale with multiple buildings. The lakefront lot features 2.7 acres, and 258' of shoreline, The Store/Office building has 1893 sq. ft. , Boat Repair garage has 2021 sq. ft. 2 service bays, storage and another office area with parts sales. The Boathouse/apartment has 3572 sq. ft. featuring a 3 bedroom, seasonal apartment, and a boathouse with 8 covered slips. Additionally, there are two 1 story steel frame buildings, one with 7200 sq. t. and the other 3927 sq. ft. of storage. On the South side of Route 28, the other parcel has 2.4 acres and offers two more storage facilities. Both were built in 2002. One has 7800 sq. ft. and the other 3120 sq. ft. The business can store 170 covered boats during the winter months. The Marina capacity for open slips is 46 with 8 covered..
Asking $2,290,000

www.timmassociates.com
https://search.timmassociates.com/idx/details/listing/a375/172171/8-State-Route-28-Inlet-NY-13360
ZIEZER'S - Speculator

Restaurant has large kitchen, several dining rooms including an enclosed front porch also, a wine room, and all over old-time charm. Needs some TLC, very good investment in a great spot. Close to school, beach, and plenty of boating. Once a year-round business with skiing mountain, snowmobiling trails, and beach. Asking $100,000
Gallo Realty
www.gallorealty.com
https://www.gallorealty.com/property/?agent=sar.4802&street=2965&address=STATE%20ROUTE%2030&city=Lake%20Pleasant&mlsID=88532313
Binders Cabins - Indian Lake 

This well established turn key year round business and well maintained property consists of 7 one and two bedroom vacation cabin units with kitchen and baths, office, owner/manager apartment, views and public access on Adirondack Lake across the road, all on beautiful wooded and landscaped grounds. Also included is a separate commercial office building on an adjacent separate lot, currently leased long term to NYS.
Asking $595,000

Howard Hanna Capital, Inc.
www.howardhanna.com
https://www.howardhanna.com/Property/Detail/6204-STATE-ROUTE-28-Indian-Lake-NY-12842/AlbanyNY/202115521
Cedarhurst Motor Lodge - Speculator
 
This Motel has a great location right in the heart of Speculator. The Motel is located with-in a couple hundred feet from the public beach on Lake Pleasant and the local diners. There is also easy access off the back property line right onto the snowmobile trails and Oak Mt. ski area is located just up the rd. The main living area has 6 bedrooms, 3 full baths, open living room, dining, and kitchen. There is a crawl under the home with an oil furnaces and there is electric heat upstairs. Plenty of room for your family to enjoy and have their own space.
There is a separate office area for check-ins and a laundry/ storage room for sheets and cleaning supplies for the motel rooms. There are 10 motel rooms (8 with 2 full beds) (2 with Queen beds). The rooms have a refrigerator, microwave, t.v, sink and mirror in the room and a private shower and toilet area. There has been recent updating to the rooms and they are in very good condition. There is village sewer, water, and there is electric heat. The parking lot has plenty of room for parking. This is a great way to move to the Adirondacks and have your own business.
Asking $550,000
Alicia C Miller Real Estate, Inc.
www.acmiller-re.com
http://www.acmiller-re.com/ShowProperty.php?ID=429
 
Row Building For Sale - Contains 3 Businesses -Long Lake


Unique commercial property, located in Long Lake near Lake Eaton State Campground. Currently being run as a Liquor store, Laundromat, and Unique Country Store. (Current tenants would consider leasing from a new owner). (Liquor store would consider selling inventory to a new owner). It has the potential to also be run as a gas station as it was in the past. Retail space is approximately 2590 square ft. This commercial site has unlimited potential!!! Easy parking/access and a nice location. Also included is an upstairs apartment with rental income potential, or as an owner residence.
Asking $225,000 

Long Lake Real Estate
www.longlakerealestate.com
https://longlakerealestate.com/idx/mls-141832-1601_tupper_lake_rd_long_lake_ny_12847